New construction at landfill sites
Construction and renewal at landfill sites constitute a double challenge as both the surface and the interior of a landfill need to be taken into consideration. Extreme depths have been a specialty of RTi Rohrtechnik international group for more than 30 years. The service portfolio comprises the new construction of leachate shafts and storage tanks, surface sealing and the construction of landfill gas collection systems at landfills.
Surface Sealing
The best way to avoid problems with leachate and landfill gas emissions is to efficiently seal the landfill body surface. RTi provides all standard sealing technologies available on the market, in multi-layer layout and professional quality. Mineral sealing systems as well as plastic sealing membranes are in use.
Construction of gas collection systems
A comprehensive system of gas wells and gas collection lines leading to gas collecting stations assures that nearly 100% of the landfill gas is collected and transported to combined heat and power (CHP) units. In these CPH units, the landfill gas can be converted into energy in an ecologically sustainable manner. The construction and renewal of all components of the landfill gas infrastructure, including the interface with the combustion plant, has been one of the renowned and nationally acclaimed core competencies of RTi throughout many years. Our service range includes the construction of gas wells, the installation of gas collection and gas transport lines, the construction and completion of gas collecting stations as well as all related gas measuring and control equipment.
Shaft Construction
One of our core competencies is the construction of vertical shafts and pits at landfill sites down to a depth of 40 m and sizing up to 10 m in diameter. These huge structures are built step-by-step using steel-reinforced shotcrete and have become established as the method of choice in rehabilitation works involving leachate infrastructure. They serve as the basis for the trenchless renewal of defective drainage or leachate collection pipes by means of pipe bursting or for the new construction of leachate shafts made of PE or coated reinforced concrete.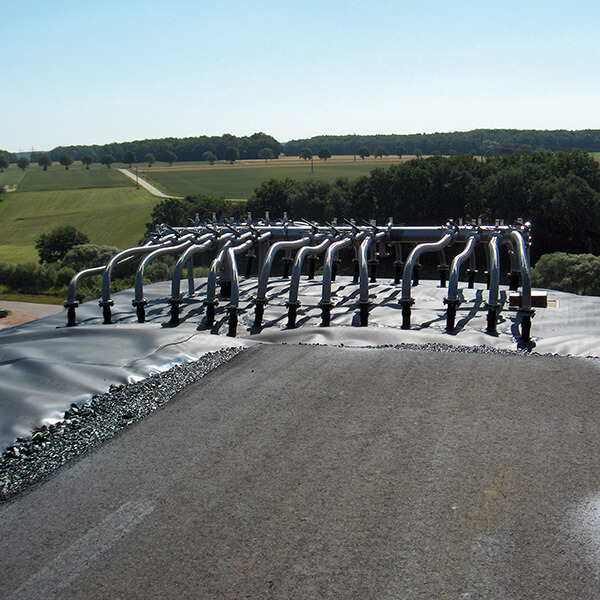 Contact one of our partners near you
RTi unites under its umbrella seven building companies, with a large network of partners operating all over Europe, and our technology provider NordiTube. In case of queries, our team will be happy to assist you. We look forward to hearing from you!